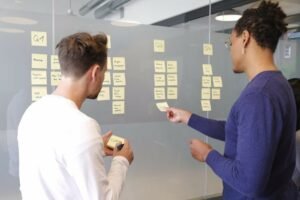 It's pretty clear that recently, there has been a shortage of talent in the workforce and those employees with the necessary skills are highly desirable amongst many competing businesses. 
Business leaders are looking at two very important levers to business success. That is technology and people. 
So how do you approach this battle between your competitors and manage the balance between obtaining the workforce that you need to get ahead and affording to do so?
Be Brave
We have seen that the businesses that have continued to do well over the past couple of years have been those that refuse to be victims of change. The business leaders who have addressed both the issues of talent and technology have remained at the forefront in terms of growth and success. 
But although the business can adopt new cloud-based, highly secured platforms and sustain a remote work setting that got them through the pandemic, without the talent that is needed to leverage this and further development, technology just becomes a cost line item. 
Mid-market businesses report that the two leading changes planned for 2022 are to either:
hire new full-time employees, 34%, or

decrease staff numbers, 32%. 
This shows bold decision making. It may be that 32% of businesses are faced with a reduction in revenue. It could be that they have developed more efficient systems. If you're one of the 34%, how on earth do you acquire staff when there are so many other businesses doing exactly the same?
It comes down to how you are winning the hearts and minds of the talent out there. 
Does your business enable the development of meaningful connections in the community? Can you provide hard evidence to support your claims that by joining your company, a potential employee's life will be better and stronger than if they went somewhere else?
You want to be able to expose your employees to an environment that stretches them and protects them for the future. Whether they plan to work in your company for 12 months or 12 years, it shouldn't matter to you. They want to build their CV with relevant skills that improve their lives as a result. 
Although technology is effectively invalid without the talent to use it, we also believe that without the technology, you will not gain the talent.
Being brave in your decision to be a leader both in your business and in your sector will help you win the war. Without the technology that your talent wants to work with, you're essentially bringing a knife to the gun fight. 
For more advice on building your business, get in touch with a team member at Glance Consultants, today. Our office number is 03 98859793 or alternatively you can email us at enquiries@glanceconsultants.com.au