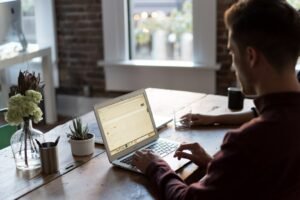 It's 2021, and if your business still relies heavily on spreadsheets for your business operations and record keeping purposes it may be time to consider a more efficient option.
A 2018 study by Deloitte Access Economics and Research Now showed that approximately 31 per cent of businesses in Australia use cloud services for invoicing. Furthermore, about 26 per cent of companies use cloud services to manage their financial operations. In the recent past, the take up of cloud based accounting software has further increased for a variety of reasons.
Why do these companies use cloud services? One of the most popular reasons many make the switch is cost savings. You're able to scale up or down your resources quickly based on your needs. Cloud based software offers efficiency and gives you an opportunity to provide better customer service. Imagine what you could do for your business if you could free up your time by automating or increasing the speed of processes like quoting, invoicing, payroll, sending follow-up emails, managing debtors & creditors and consolidating data.
Is cloud based accounting software for you? Here are some reasons why you should consider this option.
Understanding Cloud Based Accounting Software
In its basic form, cloud based accounting software allows your business's financial data to be available online. This means you can access your books anytime, anywhere, and on any device. You are also most importantly able to provide access to your bookkeeper and accountant.
Today's cloud based accounting software offer many features that make it easier to manage your finances and track your business cash flow. Additionally, these platforms come with multiple security layers to protect your data, so you manage your books with confidence and peace of mind that your data is secure.
Benefits of Cloud Based Accounting Software
It is suitable for all types of businesses. Whether you're a small business owner, a sole trader, or a CEO of a fast-growing corporation, you would be surprised how cloud based accounting software fits in your business.
Here are some of its benefits.
Time- and cost-efficiency — A desktop-based accounting system requires regular upgrades. Additionally, you'll also have to think about hardware management. This means that apart from spending on the hardware and software, you may need to spend on higher IT services. Cloud based software would increase the speed of your business operations and scaling up your operations would be easier to achieve.
Sustainability — With cloud based accounting software, it will be relatively easy to go paperless and do your part in protecting the environment.
Collaboration — Cloud based accounting software allows you to give access to team members, your bookkeeper and accountant who need to access your books. No more sending emails back and forth to share information. You could access the same data instantly.
Security — With cloud accounting, you won't have to worry about losing important data. Your books are backed up on a real time basis, and your work is automatically saved.
Cloud based accounting software is easy to integrate into your business processes, and we are here to help you make the most of it. Get in touch with us to learn more about cloud based accounting software and how it can support your business growth.